Help save this unique Australian micro-carnivore.
Act now for the generations to come.
Team Kowari are a group of conservation-minded individuals committed to making sure the kowari is protected for generations to come. 
Our mission is to utilise the diverse skills of our members to get people involved in the fight to conserve our dwindling kowari populations.
We aim to educate the public about the kowari, the threats it faces, and the initiatives being undertaken to ensure its ongoing survival.
We engage our members in kowari conservation efforts directly by offering opportunities to be involved in fieldwork operations, as well as providing regular updates through our newsletter and social media.
Our long-term goal is to create a sustainable source of funding for the ongoing and future projects related to researching the kowari and providing conservation management solutions.
We work to create a network of connections between Team Kowari, our members, and organisations that work to promote and protect Australian flora and fauna.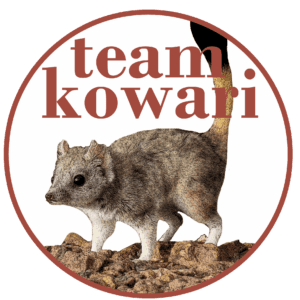 We are the only organisation dedicated to saving the kowari. Help us act now.
TEAM KOWARI IS A CONSERVATION INITIATIVE SUPPORTED BY

We acknowledge the Traditional Owners of country throughout Australia and recognise their continuing connection to land, waters, and culture.
In particular, we acknowledge the Diyari, Ngamini, and Wongkanguru peoples, who are the Traditional Owners of country where the kowari resides and we conduct our research. We pay our respects to their Elders past, present, and emerging.